Gold Coast Kennel
Boarding at Gold Coast Kennel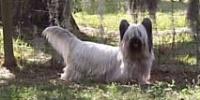 We are a boarding kennel in Leesburg, Florida, just northwest of the Orlando area. We take good care of our dogs, and we treat your dogs like they were our own.
When the hurricanes of 2004 were chasing Floridians to shelters across the state, we stayed put, keeping our clients' dogs safe until they could return to their homes.
If you are in Central Florida and need a safe, reliable kennel to board your dogs for a day, a week, or even longer, let's talk.
Show Dogs of Gold Coast Kennel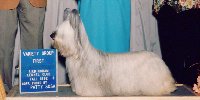 At Gold Coast Kennel we raise and show award-winning Skye Terriers. Come see some of our favorite Skyes, as well as dogs of other breeds we've shown successfully for ourselves and for clients around the country.
Puppies at Gold Coast Kennel
We currently — that's December 2008 — have a six-month old female Skye Terrier that would be a wonderful addition to the right home. Give us a call and let's see if you might be that home.