Ready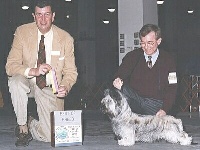 At age nine months Ready surprised us by winning her first point, under Mike Buckley. As you can see, I was so excited that I set her up with her back feet over-extended.
At 16 months she got both her majors on a single weekend, taking Winner's Bitch three of four days at the Steel Valley cluster. We were so thrilled — and so tired in the near 100 degree heat — that we forgot to get pictures:-(.
Earthdogs?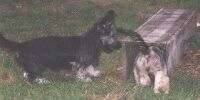 There goes Ready into the tunnel, pursued by Nora. The girls were only four or five months old when this one was taken.
Nora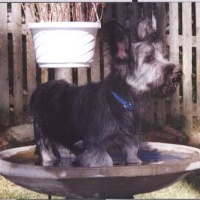 Making sure that no birds get near her raised cement wading pool, Talakan Eastbound Havoc, Nora to her friends, remains ever vigilant.